Project Designers, Creative Builders, and Cool Business Guys- Jeff Seymour & Dieter Sturm


Current Projects

THE JET VESTTM

*World's Smallest Jet Turbine Flying Belt

Phase 1 of Design- custom molding of the Jet Vest harness



The JET VESTtm from JME will incorporate 4 micro jet turbine engines
designed and built by Jeff Seymour that will power the jetpack at 400 lbs of thrust.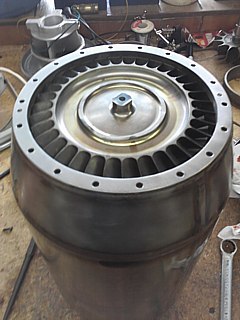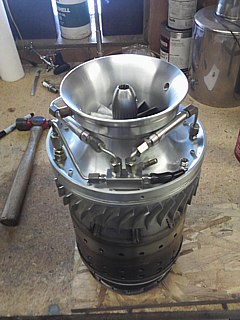 Conservative projected flight times of 3 to 4 minutes, which is an increase of 600% - 800% over
traditional hydrogen peroxide jet belts.
TARGET DATE OF PHASE 1 COMPLETION - EAA Oshkosh July 2012

Update- July 30, 2012 Just returned home from the EAA show with very exciting interests!
Over the next week, we will post more photos, information, and feedback.


NEWS STORY - Check out a cool story from the EAA Newspaper about our project-
http://www.airventure.org/news/2012/120726_jet-vest-creators-go-for-wow-factor.html

JME booth at the recent EAA AirVenture Convention in Oshkosh
*We are seeking "Angel Grants/Investment" to ramp up our progress.
WE REQUEST YOUR HELP......
Currently, the JET VEST has been
completely funded out of our pockets. We would welcome you jetbelt enthusiasts that may have
the funds or product to assist our project and accelerate our timelines to contact us.

IMMEDIATE NEEDS-

$$ Donations to Pay Programmer for Engine Controllers
5 Point Race Car Harness in excellent condition
Aluminum and Good Clean Metal sheeting, tubing, etc.
Flight Suits
Good certified scuba tanks for engine start package
Vacuum bag and carbon fibre materials
Truck with 12 - 18 ft box for Mobile Tether System

Thank you.



MICRO MONSTER
*World's Smallest Jet Powered MONSTER TRUCK project


*Attention Marketing Firms -looking for high energy sponsors




WATCH THE VIDEO - http://www.youtube.com/watch?v=9zhBASdd8O8
and our smoke tests (without body) http://www.youtube.com/watch?v=vUSF3ocQD8w



TARGET DATE OF COMPLETION & TESTS - Finished
AVAILABLE FOR BOOKINGS BEGINNING JULY 2012

Visit The New Website here





Consultation and hands-on work to get two J-33 jet engines up and running for use as
hurricane, and smoke machines for SUPERMAN -Man Of Steel motion picture
*Special Effects Supervisor- Alan Hall July 2011


JME Research & Development Projects



Jeff Seymour Dieter Sturm

MICRO-TURBINE ELECTRIC HYBRID AUTOMOBILES
The combination of micro turbine and new generation batteries makes it possible to drive
electric cars without charging the battery from an external point.


ATDI - 80 Turbo jet turbine w/1kw generator & Electric Start
*JME is seeking funding / investment for continued development



The Core Team Behind JET MACHINES EXTREME

Jeff Seymour's Group http://www.advtdinc.com/
Jeff is an expert designer and builder of miniature jet turbine engine projects for such groups as the US Military
and NASA just to name a few. He is a master machinist and truly is a genius in his respected field!

Dieter Sturm's Group http://www.snowmaker.com and http://www.allseasonextreme.com
Dieter is a hard core creative and a 26 year veteran Academy Award winning Special Effects Coordinator
for the motion picture and TV industries. Creative problem solving is his expertise and he is the driving force
behind the business and marketing efforts of JME.


JME Consortium Team Members


Terry Straud
Terry's expertise is programming in Apple Basic, Quick Basic, VIsual Basic, COBOL,
FORTRAN.PASCAL.VB script, JavaScript, Flash, 6502 assembly, C,C++, and working on every kind
of microcontroller in the world. He first appeared on Discovery Channel in the documentary Rocket Challenge
and then Master Blasters, that featured Terry and his dad doing some routine rocket things, like launching a BMW Mini-Cooper
a quarter-mile using two boost sections from Tomahawk cruise missiles. Terry's respected talent will be involved in creating
JME's microprocessor system for the JET VEST that will control all four of the jet turbines together as one.



Terry's creative group is heading up the design and testing of the 18/15m FAI Class Sailplane
Glider currently being tested with a ADTI GS - 80
# # #

LINKS

Visit our friends at EAA- The Experimental Aircraft Association

Check out our friend Dave Modder's all-new 1940 Jet Powered Ford Pick Up Truck




Dieter Sturm of Jet Machines Extreme with the Legendary "Rocketman" Ky Michaelson
Visit Ky's website at http://www.the-rocketman.com
An incredible man with incredible talent!




Dieter was the Founder of JETWEBB.COM, the MOST COMPREHENSIVE website devoted
to Jet Powered Vehicle Websites, Professional Jet Drivers, Jet Teams, Jet Photos,
Jet-related Message Boards, Jet-tech Information. STILL VERY ACTIVE & INTERESTING! Check It Out.......


For Further Information, contact JET MACHINES EXTREME
Dieter Sturm at dsturmfx@aol.com